For a visit to Naples, park your car and be enchanted by the narrow streets of the historic center. In Piazza del Gesù, visit the splendid and homonymous church located in the heart of the square. Continuing towards the historic center, admire the Santa Chiara complex and walking along via Benedetto Croce, you will find Piazzetta Nilo and the statue to the god Nile, called "the Body of Naples", which is said to be located in the exact center of the city. Continuing you find yourself in the picturesque Via San Gregorio Armeno, known as the street of the cribs, where since the 1700s masters of the Nativity Scene art every year, with new techniques they make statuettes that represent well-known personalities from politics or entertainment, as a provocative act to reality Contemporary.
.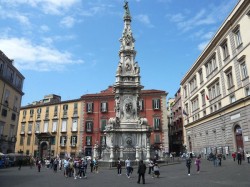 Continuing on Via Tribunali and turn right on Via Duomo where you can admire and visit the Duomo and the Chapel of San Gennaro where the relics of the patron saint of Naples are kept. In Corso Umberto I do some shopping and at the end you reach the beautiful Piazza Bovio or Piazza della Borsa, recently re-evaluated. Going up Via San Felice, you can finally rest and stop at the Culture Cafè, the loung bar of the most artistic 4-star hotel in Naples: take an aperitif, a professionally made cocktail accompanied by appetizing snacks.
The Culture Café of the historic center of Naples is the ideal place to meet with friends to have a drink, listen to good music and contemplate works of art.